Skip Global navigation and goto content
Patients and Families: Resources and Programs
Overdose Data to Action
 

Mailing Address

921 N. Davis St. 

Bldg. A, Suite 251 

MC-42 

Jacksonville, FL 32209




Click below to download a copy of the OD2A brochure. (PDF 642KB)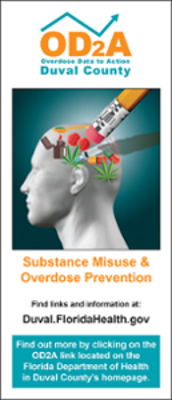 OD2A Partner Agencies 
The Health Planning Council of Northeast Florida
Linking Duval County with health resources.
Premier BioTech
Providing customized, drug screening services
for criminal justice/corrections, workplace,
health & human services, and clinical-based
programs.
Gateway
Providing compassionate services, including
Peer Specialists, to those lost in the despair
of addiction and mental health challenges.
PAMI: The Pain Assessment and Management Initiative
Advancing innovation and safety in pain
education, patient care, and research.

Yoga 4 Change
Using yoga to teach positive & healthy coping
skills.

Drug Free Duval
A community coalition offering training and
support, with a single purpose: freedom from
substance abuse for all.
Inspire to Rise
Inspiring through community behavioral health,
education, peer support, and arts services.
Northeast Florida Healthy Start
Serving Duval's substance-using pregnant
women and their babies through home visiting
peer specialists.
National Suicide Prevention Lifeline 
800-273-8255

Hours: Available 24 hours.
Languages: English, Spanish
SAMHSA 
National Helpline 1-800-662-HELP (4357)
SAMHSA's (Substance Abuse and Mental Health Services Administration) National Helpline is a free, confidential, 24/7, 365-day-a-year treatment referral and information service (in English and Spanish) for individuals and families facing mental and/or substance use disorders. 
MAT: Medication-Assisted Treatment for Opioid Use Disorder
Pocket guide.
Opioid Treatment Program Directory
Find treatment programs in your state that treat addiction and dependence on opioids, such as heroin or prescription pain relievers, at dpt2.samhsa.gov/treatment/.