Skip Global navigation and goto content
Youth Risk Behavior Surveillance System
Contact Us
 

Mailing Address

921 N. Davis St. 

Bldg. A, Suite 251 

Jacksonville, FL 32209 
The Youth Risk Behavior Surveillance System (YRBSS) monitors six categories of health-related behaviors that contribute to the leading causes of death and disability among youth and adults, including—
Behaviors that contribute to unintentional injuries and violence
Sexual behaviors related to unintended pregnancy and sexually transmitted diseases, including HIV infection
Alcohol and other drug use
Tobacco use
Unhealthy dietary behaviors
Inadequate physical activity
In addition, the YRBSS monitors the prevalence of obesity and asthma and other health-related behaviors plus sexual identity and sex of sexual contacts.
Duval County Public Schools, in partnership with the Florida Department of Health in Duval County, has administered the YRBSS to middle and high school students during the spring of 2009, 2011, 2013, 2015, 2017, and 2019.
Looking for data and statistics to assist with monitoring youth risk behavior? Youth Online lets you analyze national, state, and local YRBSS data from high school and middle school surveys conducted during 1991 – 2017. YRBSS data can be filtered and sorted based on race/ethnicity, sex, academic grade, and sexual orientation.
2019 YRBS Report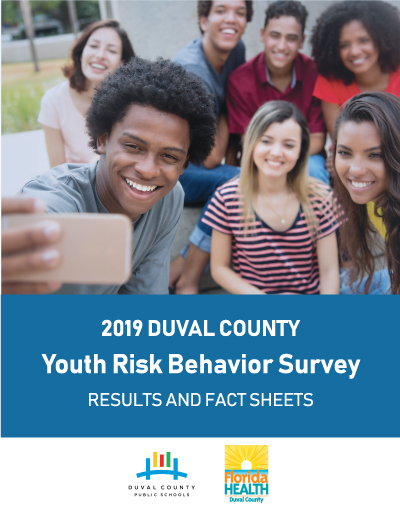 2019 Youth Risk Behavior Survey (14 MB PDF)